Worship at St James
Our church services in December are at 10.30am with a range of special extra services for Christmas. Find out more on our Christmas 2021 webpage.
Sunday 5th December 10.30am All Together Worship
Sunday 12th December 10.30am All Together Worship
Sunday 12th December 4pm Christingle Service
Sunday 19th December 10.30am All Together Worship
Sunday 19th December 4pm Outdoor Carol Service
Friday 24th December 3pm Family Crib Service
Friday 24th December 11.30pm Midnight Eucharist
Saturday 25th December 9.30am Family Service for Christmas Day
Sunday 26th December NO SERVICE AT ST JAMES 10am Team All Age Communion at St Mary's Great Sankey
Please come and join us!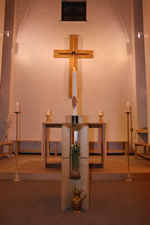 Weddings, Baptisms and Funeral
To book Weddings, Baptisms, or Funerals at St James please contact Rebecca Lloyd on 07886649559 or email baptismsandweddings@stjameschurch.info. You will normally be asked to come along to one of our Sunday morning services to book a baptism, wedding or to have your banns read.
Daily Prayer
Daily prayer happens around the different churches in the team. Each session starts promptly and lasts for approximately 30 mins. All are welcome.
Monday 9:00 am St Paul's Facebook page
Wednesday 10:00 am Holy Communion at St Mary's
Thursday 10:30 am St Paul's, in church
Friday 9:00 am St Philip's Facebook page
Music
At the 9.30am service the music is usually traditional style hymns accompanied by the organ.
At 11am, the music is generally more modern hymns and choruses, accompanied by keyboard and guitar.