Events at St James
We have a lively programme of social events at St James. Everyone is welcome and we would love to see you at any of our events!
Church Picnic
Sunday 19th August 12 noon
Dakota Park (in church if wet)
Join us for a summer picnic. We will meet in Dakota Park at around 12 noon after the 11am service ends. Bring a picnic and some games for everyone to play. Everyone is welcome. If the weather is bad, we will picnic in church!
Games Night
Usually the first Thursday of the month 7pm - 9.30pm
Come and join us for our Games Night for all adults in the Church Hall - just £2 which includes refreshments. You can have a game of Indoor Bowling, Darts, Cards and many more. Please do not hesitate to contact us for more details and we look forward to seeing you all on the evening!
Games Night usually runs on the first Thursday of each month.
Places of Welcome
Every Thursday
1pm - 3pm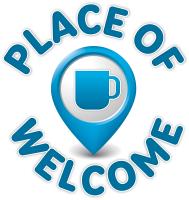 St James Church is a Place of Welcome.
Places of Welcome is a growing network of hospitality run by local community groups who want to make sure that everyone in their area has a place to go for a friendly face, a cup of tea and a conversation if and when they need it.
The primary aim of the Places of Welcome network is that "Every neighbourhood has places where all people feel safe to belong, connect and contribute."
Although every Place of Welcome is different, they all offer:
Friendship and hospitality
Regular opening at the same time each week
Free refreshments
Local knowledge about the neighbourhood
Everyone is welcome to come along on any Thursday between 1pm and 3pm for a brew and a chat.
Find out more by visiting the Places of Welcome website
Messy Church
Held regularly through the year at Sankey Valley St James School and Chapelford Primary
Both of these family events finish with refreshments at 4:30pm.
All families are welcome - just come to school reception on the day.
Next dates are: